Toolzone 9Pc Plumbers Hss Bimetal Holesaws
Bi-metal hole saw suitable for mild steel, stainless steel, cast iron, brass, aluminium.
Bi-metal high speed cutting blades.
Includes six cutting blades: 19MM (3/4"),
22MM(7/8"), 29MM(1-18"), 38MM(1-1/2"),
44MM(1-3/4") and 57MM("-1/4")
3/8" and 7/16" Shank Arbors with 1/4" Pilot Drill Bits for use with the 3 smaller Cutters and the 3 larger cutters.
SUitable for use with Mild Steel, Stainless Steel, Cast Iron, Brass, Aluminium and Wood.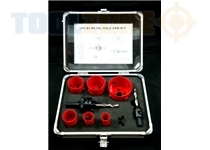 Click to view large image.