k seal permanent leak repair
K seal mixes with all antifreeze so there is no need to drain or flush the cooling system, PERMANENTLY seals most leaks in engine blocks, heads, head gaskets, rads, heater cores treats up to 20l 236ml.
The best on the market.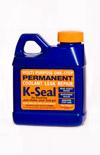 Click to view large image.